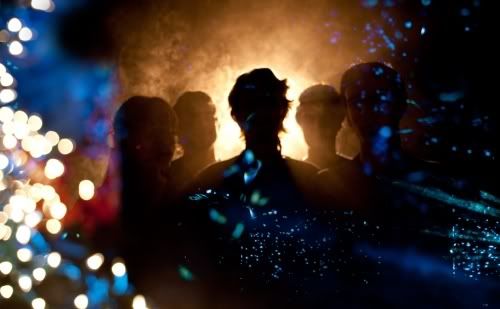 I was chatting with my good buddy Ross Compton the other day when he dropped a quick tip about a new band that would be stopping by Lexington in a couple weeks. So check out this new track and then come see them Feb 12 at Al's Bar.
MP3: Givers – Up, Up, Up
If I had a dollar for every time I've had a conversation in the past month about how Vampire Weekend's debut kicked butt and their sophomore record dropped a bit short, I'd have quite a few dollars. And while "Up, Up, Up" doesn't sound exactly like it's an outtake from that record, I think it scratches an itch left unscratched since I first heard their self titled debut. It's a quirky, poppy track that pulses with life. And hey — added bonus: guitar solo!
Givers tour dates (including Lexington) after the break.
Givers Tour Dates
Jan 25 – HopJacks w/ The Prince Bros. & Jeremy Gibson Band Pensacola, Florida
Jan 26 – Engine Room Tallahassee, Florida
Jan 28 – New World Brewery Tampa, Florida
Jan 29 – 331 Cafe w/ The Gills Jacksonville, Florida
Jan 31 – Pilot Light Knoxville, Tennessee
Feb 1 – The Box Charlottesville, Virginia
Feb 2 – The Black Cat- Backstage Washington DC
Feb 3 – House Show Annapolis, Maryland
Feb 4 – Cafe Nola Frederick, Maryland
Feb 6 – Terrace F Club @ Princeton University Princeton, New Jersey
Feb 7 – Union Pool w/ Helado Negro Brooklyn, New York
Feb 10 – Case Western University w/ Dr. Dog Cleveland, Ohio
Feb 12 – Al's Bar Lexington, Kentucky
Feb 15 – Festival of the Rising Sun @ NOLA Arthouse LundiGras! New Orleans, Louisiana
Feb 25 – Mangos Houston, Texas
Feb 26 – Emo's (Inside) w/ Caddywhompus! Austin, Texas
Feb 28 – 516 Soundstage w/ Caddywhompus! Shreveport, Louisiana
Mar 5 – One Eyed Jacks w/ Rotary Downs (their new 2010 cd release!) New Orleans, Louisiana
Mar 6 – GERONIMO MUSIC FESTIVAL 2010! Lafayette, Louisiana
Mar 16 – StarBar w/ Gonzo Sirens & JEFF the Brotherhood Beaumont, Texas
Mar 18 – SXSW… tba Austin, Texas
Mar 19 – SXSW… tba Austin, Texas
Mar 20 – SXSW… tba Austin, Texas
Apr 24 – Festival International De Louisiane !!! Lafayette, Louisiana
May 2 – FestForAll (Greater BR area) Baton Rouge, Louisiana