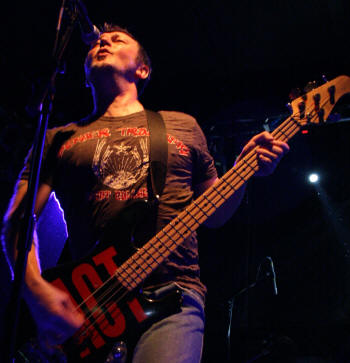 Image via Cluas
Dave Allen is the original bassist for Gang of Four, a band so influential that nearly every band covered by NME today should have to pay them a royalty check. The Gang are at work on a new release right now, and Allen's been dropping demos over at his music blog Pampelmoose. Dave Allen was kind enough to share a Mixmas compilation with us, and it's a huge honor to have him contribute.
MP3: Gang of Four – Damaged Goods
"The Anti-Love Song" by Dave Allen of Gang of Four
Maybe Lennon & McCartney are to blame. "All You Need is Love" spelled out pretty clearly in song what those two Liverpudlian scallywags thought we needed and in return perhaps hundreds of thousands of folks at the time agreed. As the refrain 'Love is all you need' echoes off to somewhere in the distance, that mantra to me becomes very disturbing, it's like an ominous chant that would be performed during a group hug in a therapy session; its promise of hope and happiness, you believe at first, is uplifting. But what happens out there in the reality of your everyday existence? Well a brief and cursory dip into the song writing pool brings us quickly to the other side of the coin – starting with the blues greats tales of loss and woe, through Roy Orbison's sad laments, Nick Cave's tormented religion-tainted howls, all the way up to Nirvana's Polly where that song's protagonist utters probably the most depressing chorus in rock history –
'Polly wants a cracker
Maybe she would like some food
She asks me to untie her
A chase would be nice for a few'
-bear in mind that the narrator does 'love' Polly. All of those artists' songs paint a much bleaker picture than the rosy one painted by "All You Need is Love." Which brings me to a list of songs, only five but there could have been hundreds, filed under Anti-Love songs. What we have here is a handful of songs that I plucked pretty quickly from different genres. Each in their own way delivers the singer's POV on the messy chemical and hormone mix we call Love ….. Let's start with Atmosphere and the rapper Slug. He seems to document in every song his inability to have anything but destructive relationships with women. The lyric from Reflections is typical. Here he seems to be taunting a woman backstage –
'The first time she met the devil was at first avenue
Went back stage with him into the dressing room
Sexy ego trip, Taller than expected about six foot three
Seemed to thrive on his misery
Critical observant big words
Sweaty hair, sunken eyes, and thick curves
She said I'll make him smile for the simple fact that he needs it
I'll make him smile just so I can kill it an' eat it'
And let's finish with my own band's song, Anthrax, in which Jon King intones –
'And I feel like a beetle on it's back
And there's no way for me to get up
Love'll get you like a case of anthrax
And that's something I don't want to catch'
While guitarist Andy Gill narrates his point –
"Love crops up quite a lot as something to sing about,
Cos most groups make most of their songs about falling in love
Or how happy they are to be in love,
You occasionally wonder why these groups do sing about it all the time –
It's because these groups think there's something very special about it
Either that or else it's because everybody else sings about it and always has,
You know to burst into song you have to be inspired
And nothing inspires quite like love."
I'll leave you with that. And if it is unappealing to you, you can Google the history of that famous Jon Bon Jovi phrase – "Don't bore us, get to the chorus!"
MP3: Atmosphere – Reflections
MP3: Betty Davis – Anti Love Song
MP3: Waterboys – We Will Not Be Lovers
Sinead o'Connor – This is the Last Day of Our Acquaintance
MP3: Gang of Four – Anthrax
A big thanks to Dave Allen and everyone who contributed to Mixmas! Thanks for making it a great way to end 2007!
Mixmas 07
Day 17: Justin Rice of Bishop Allen
Day 16: MGMT
Day 15: Keith Murray of We Are Scientists
Day 14: Gregg Gillis aka Girl Talk
Day 13: Danny Seim of Menomena
Day 12: Josh Grier of Tapes n Tapes
Day 11: Michael Nau of Page France
Day 10: Tullycraft
Day 9: Shara Worden of My Brightest Diamond
Day 8: Holy Fuck
Day 7: Jay Underwood of the Light Footwork
Day 6: Matt Kretzman of Tapes n Tapes
Day 5: Jason Nesmith of Casper and the Cookies
Day 5: Matthew Pelham of the Features
Day 4: Keith Lowen of De Novo Dahl
Day 3: Fishboy
Day 2: David Crane of BOAT
Day 1: Scott Carney of Wax Fang
Day 1: Ivana XL
Mixmases from '05 and '06 below…

Mixmas 06 (MP3s removed)
Day 12: Keith Murray of We Are Scientists
Day 11: Ed Droste of Grizzly Bear
Day 10: Allan Vest of The Starlight Mints
Day 9: The Light Footwork
Day 8: Casper and the Cookies
Day 7: Sure Juror
Day 6: Ryan Allen of Thunderbirds Are Now!
Day 5: Michael Nau of Page France
Day 4: Greg from Oh No! Oh My!
Day 3: Tony Miller of Ideal Free Distribution
Day 2: Ivana XL
Day 1: Daniel of Oh No! Oh My!
Mixmas 05 (MP3s removed)
Day 13: Kevin Barnes of Of Montreal
Day 12: Keith Murray of We Are Scientists
Day 11: Justin Rice of Bishop Allen
Day 10: Becca from The Light Footwork
Day 9: Jay from The Light Footwork
Day 8: Christian Owens from Bishop Allen
Day 7: The Rinse
Day 6: Chris of Gorilla vs Bear
Day 5: Dodge from My Old Kentucky Blog
Day 4: Ryan Allen of Thunderbirds Are Now!
Day 3: John Vanderslice
Day 2: Tapes 'n Tapes
Day 1: Dean from Secret Unicorns Forum